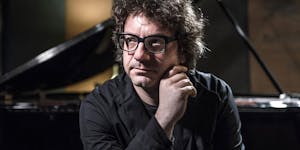 Composer and Pianist Remo Anzovino
$20.00 - $25.00
Tickets At The Door
Join us for a night with Composer and Pianist Remo Anzovino
REMO ANZOVINO, ORIGINAL MUSIC COMPOSER. Born in 1976 from Neapolitan parents, he began playing the piano and composing music as a child. Aged 24 he obtained a firstclass Law degree with honours from the University of Bologna, specializing in Criminal Law. He is currently considered one of the most influential composers and pianists in the Italian music scene. His style is the perfect intersection between art music and world music, it's the result of a long experience composing for the theatre, advertising (for brands such as Alitalia, Bulgari and New Holland) and for the cinema.Remo Anzovino's latest album entitled "Nocturne" (Sony Music Italy), was released on 29th September 2017 for digital download, to main music streaming platforms and through traditional record stores. The vinyl version is also available as a double LP. "Nocturne" was recorded between Tokyo (JVC Victor Studio), London (Abbey Road), Paris (Les Studios Saint Germain) and New York (Brooklyn Recording). This modern, incisive album was produced, recorded and mixed by Taketo Gohara, with orchestral arrangements by Stefano Nanni, who also directed the London Session Orchestra.
Concert presentation :
As part of the ITALIAN SOUNDS project of New Age Productions, pianist composer Remo Anzovino, considered one of the most influential, innovative and eclectic exponents of Italian contemporary music scene, "Nastro d'Argento 2019" (special category "Musica nell'Arte"), after the resounding successes achieved in his concerts in Tokyo and Osaka last May, will be touring United States (Chicago 16 - Washington 18 - New York 19) for the release of his CD "Nocturne" (Sony Classical) on the american market. Italian composer and pianist Remo Anzovino is inspired by film and visual media, whether that is celebrating Pasolini, writing a complete soundtrack for "Fight For Freedom", a recent film about Muhammad Ali, or creating the original soundtracks for Hitler versus Picasso and The Others: The Nazi Obsession for Art and "Van Gogh, of wheat field and clouded skies" two art movies released in April and May 2018 in over than 50 countries by Nexo Digital.
(London Jazz Festival 2018)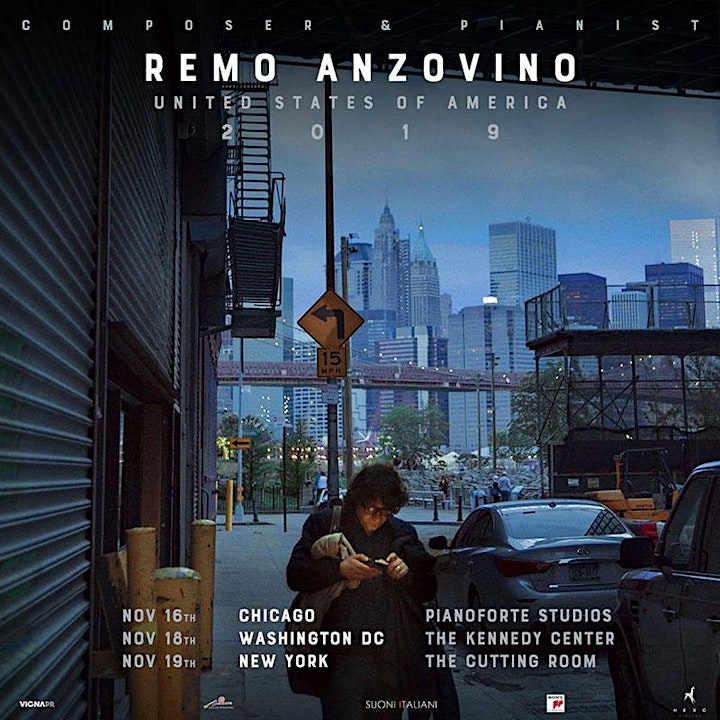 Venue Information:
The Cutting Room
44 E 32nd St.

New York, NY, 10016
https://www.eventbrite.com/v/the-cutting-room-2068