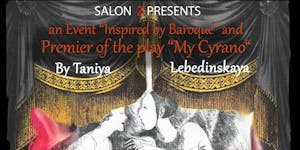 "My Cyrano" an Event "Inspired by Baroque"
$35.00 - $100.00
Postponed
On Salon Z
$25 food & beverage minimum per person.
Dear friends,
Salon Z Invites you to a theatrical evening from the series "Inspired by Baroque" and to the Premiere of the play "My Cyrano" by Tanya Lebedinskaya based on the heroic comedy of Edmond Rostan. We hope our unique musical-dance-theatrical performance in the style of Rock Baroque will not leave you indifferent! Salon Z repeatedly in the past delighted viewers with interesting conceptual productions, in which famous actors such as Yuri Naumkin, Elena Solovey, director Gary Chernyakhovsky, etc. took part. A smartly dressed audience fell into the atmosphere of the Salon and with curiosity and enthusiasm followed the development of the plot of theatrical action taking place around them and on the stage. This time, our choice fell on the original poem by Tanya Lebedinskaya "My Cyrano", adapted to the play, full of exquisite poetry and inimitable humor, which our director and actors embodied with great enthusiasm.
This is an event in Russian language and we hope all our guests, including English-speaking ones, will find it entertaining, since the story of Cyrano is so well known all over the World! Full of music, poetry, dance and theater, all these are the same in all the languages of the world! So please don't be shy, come and enjoy this unique performance!
At the evening, which starts at 5pm and will be held in the popular Manhattan club "The Cutting Room", you will find amusing theatrical surprises, thanks to the abilities of our talented actors, as well as various delicacies from the club's restaurant menu, which you can preliminarily familiarize yourself with on the site http: / /thecuttingroomnyc.com/menu and sample them by ordering in the event, along with a rich selection of different drinks at the bar.
Creative attire!
Дорогие друзья,
Салон Z Приглашает на театральный вечер из серии "Вдохновленные Барокко" и на Премьеру Спектакля "Мои Сирано" Тани Лебединской по мотивам героической комедии Эдмонда Ростана. Надеемся наша уникальная, музыкально–танцевально–театральная постановка в стиле Рок-Барокко не оставит вас равнодушными! Салон Z неоднократно в прошлом радовал зрителей интересными концептуальными постановками, в которых участвовали известные актеры такие как, Юрий Наумкин, Елена Соловей, режиссер Гари Черняховский и т.д. Нарядно одетая публика попадала в атмосферу Салона и с любопытством и восторгом следовала развитию сюжета театрального действия, происходящего вокруг них и на сцене. На этот раз наш выбор пал на оригинальную поэму Тани Лебединской "Мои Сирано", адаптированную к пьесе, полную изысканной поэзии и неподражаемого юмора, которую с большим энтузиазмом воплотили в жизнь наш режиссер и актеры.
На вечере, который начнется в 5pm и будет проходить в популярном Манхетенском клубе " The Cutting Room ", вас ожидают разные сюрпризы, благодарья способностьям наших талантливых актеров, также вкусные деликатессы из ресторанного меню клуба,с которыми вы предварительно сможете ознакомиться на сайте http://thecuttingroomnyc.com/menu и их отведать заказав на вечере, вместе с богатым выбором разных напитков в баре.
Обычный билет $60.00 (включает место за столом)
VIP билет $100.00 (включает место за столом и бутылку шампанского)
Билет на балконе или у бара $35.00 (стоячие места только у бара или на балконе)
Приходите на премьеу, Спешите приобрести билеты, Ждем вас!
Форма одежды: creative attire!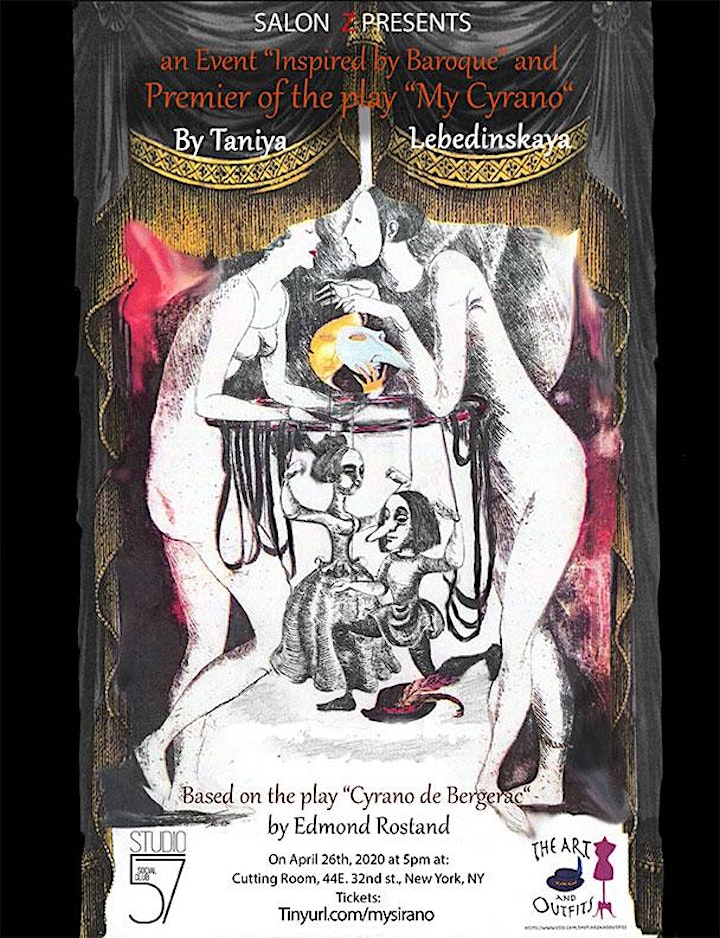 Venue Information:
The Cutting Room
44 E 32nd St.
New York, NY, 10016
https://www.eventbrite.com/v/the-cutting-room-2068