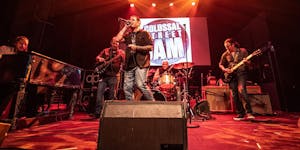 "A Feast of Friends" featuring: Colossal Street Jam
$10.00
Tickets At The Door
Come join us for "A Feast of Friends" featuring: Colossal Street Jam with Special Guests Light My Fire ( The Ultimate Doors Tribute Band)
COLOSSAL STREET JAM:
Mix the gritty, soulful vocals of Gene Potts with the guitar fire of Sal Marra, the pulsing bass of Anthony Flora, the war-hammer drums of Dave Halpern and the one man festival that is Eric Safka on keys, and you get Colossal Street Jam.
Colossal Street Jam is a 5 piece band based out of Red Bank, NJ that plays a 70's style brand of infectious and melodic rock and roll.
Colossal Street Jam's November 2016 release "Living Free' has garnered critical acclaim and has been featured in many music magazines worldwide and continues to get extensive radio play both locally and globally. In January of 2018, "Living Free" won the Australian Indie Album of the Year award for internet radio. Colossal's follow up EP "Just Take Hold", released in March of 2018, once again hit the charts all over internet radio in Europe and garnered acclaim all over college radio stations in the United States. The new CSJ release is slated for early 2020.
Known for their highly energetic live show this is a band not to be missed!
LIGHT MY FIRE (Ultimate Doors Tribute)
Break on through and be mesmerized as we take you back to the 1960's Sunset Strip sound of the Doors. Our use of authentic instruments, note for note accuracy and onstage personas is so surreal it captivates every audience and leaves them wanting more.
Venue Information:
The Cutting Room
44 E 32nd St.
New York, NY, 10016
https://www.eventbrite.com/v/the-cutting-room-2068